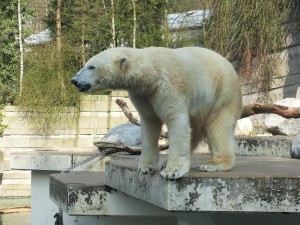 My week in Wuppertal
EdX is little bit hard and complicated to use. Finally everyone can log in their own passwords. I hope more practice with EdX. We did work in groups. In groups, we had one student for every country. It's nice and fun experience but little bit hard. And I watched when the others work with EdX, that looks like easy but not to me. We got the mission in Cologne. We had to climb to the tower of the Cologne Cathedral. It was fun. Wuppertal is nice and beautiful town. I hope everyone feel to same. Our journey was fantastic!  Greetings Riia / Finland
*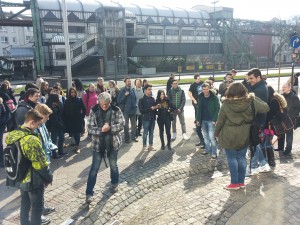 My adventure in Germany
At first day when we arrived to Germany, on Sunday, Svea and her family came and picked me up at the train station and we drove straight to their home. While we were driving I got to know that they lived 20 km far from school. We got in the house late in the evening and I went to bed right after I had dinner.
On next day, Monday, we got to know the Edx-program better and when school ended we all went shopping.
On Tuesday morning all the students and teachers met each other on the school. Then the students were separated on five different groups, each member from different country. Every group had a mission, our job was to walk around the city center, look for the sights and write something about them on paper.
In the afternoon, when everyone had come back to the school, we started to make presentations with the information that we just got.
Later on the day we had a social evening at the hostel where the other Finnish people were staying. Everybody enjoyed the music and we all had a lot of fun.
On Wednesday we introduced our presentations for the other groups, and after lunch we left by schwebebahn towards the zoo. We had like two hours to walk around the zoo and then then the others left somewhere and I went back to my host family's house by a car with Svea driving it.
On Thursday we all met at school, again, and did some schoolwork like three hours. After we had lunch we took a train to a city called Köln. Nearly all of the students wanted to climb up to the church tower so I went too. I remember that I was just about to die when I saw the last stairs.
When we had shopped enough and the time was running out me and Riia met the others at agreed place and left back to Wuppertal.
On the last day of the trip we went to school with suitcases, ate lunch after some schoolwork and goodbyes, and left towards the airport.
So that was it. I liked everything about the trip and I had some new friends there during the schoolwork and that kind of stuff. I would definitely go for a new trip to Germany.
Greetings Sini
*
My week in Wuppertal
On Monday afternoon we started working with Edx. We registered in and tested the demo courses. We worked in pairs.
On Tuesday we woke up early and went to school. There we were divided into five groups and in every group there was one student from each country but because there were six of Finnish, me and my friend Aliina went to the same group. I felt quite young in the group because the other members were a lot older. I think that the division could has been planned by ages, because now the difference between the levels was quite big. But anyway, every group had a different tourist place where they had to visit and collect information and take pictures about it. In the afternoon we made a presentation about the place. We tried to do it together but I think that the others were so much better so they didn't need our help.
On Wednesday we worked in the same groups as yesterday and made a course about the place we had visited. We put a text, pictures and tasks to the course. The Italian one of our group was very good with using Edx and did almost all the things with it, which wasn't a bad thing because he did it so well. The rest of us made questions and answers to the course. After lunch we Finnish, Polish and Germans went to the zoo. The others went to Düsseldorf. In the zoo we had to do only one thing, we had to interview three people.
On Thursday morning we went to school for two hours. We tested courses that the other groups had made. After that we went to Cologne. There we had to climb up stairs to cathedral's tower and calculate a power of climbing. Then we had a few hours free time. The whole day was great.
On Friday we had to take our baggage with us to school. Each nationality worked in their own groups and made a report about their week in Wuppertal. Before lunch we got certificates and after that we ate. Then we had to leave Wuppertal. I was sad to leave because I had had great time with lovely people in beautiful city. The whole experience was excellent and I will never forget it.
Alisa
*
My week in Wuppertal
On Monday morning we took a ride in the Schwebebahn around Wuppertal.
In the afternoon we started with EdX platform, logged in and tested the demo course.
On Tuesday morning we worked in a five groups. Each group had one location to visit and collected information and take pictures about that place. Our group went to historic museum, Engel Haus. After that every group made their own presentation with information they got. All the students and teachers spent the evening together.
On Wednesday morning we stick in the same group, and continue working with EdX. We started to prepare the courses about the given subjects. In the afternoon we went to the zoo.
On Thursday morning we worked with EdX, same groups, again. We upload course to the EdX and we tested other courses. Then we went to the Cologne by train. We visited in Cologne Cathedral.
On Friday morning we did a text in groups of students. We worked in groups of our own nationalities. We wrote the report about the whole week in Germany. Then we came back to Finland.
Alina